Pitch Club
March 2 @ 7:00 pm

-

8:45 pm

EST

$40.00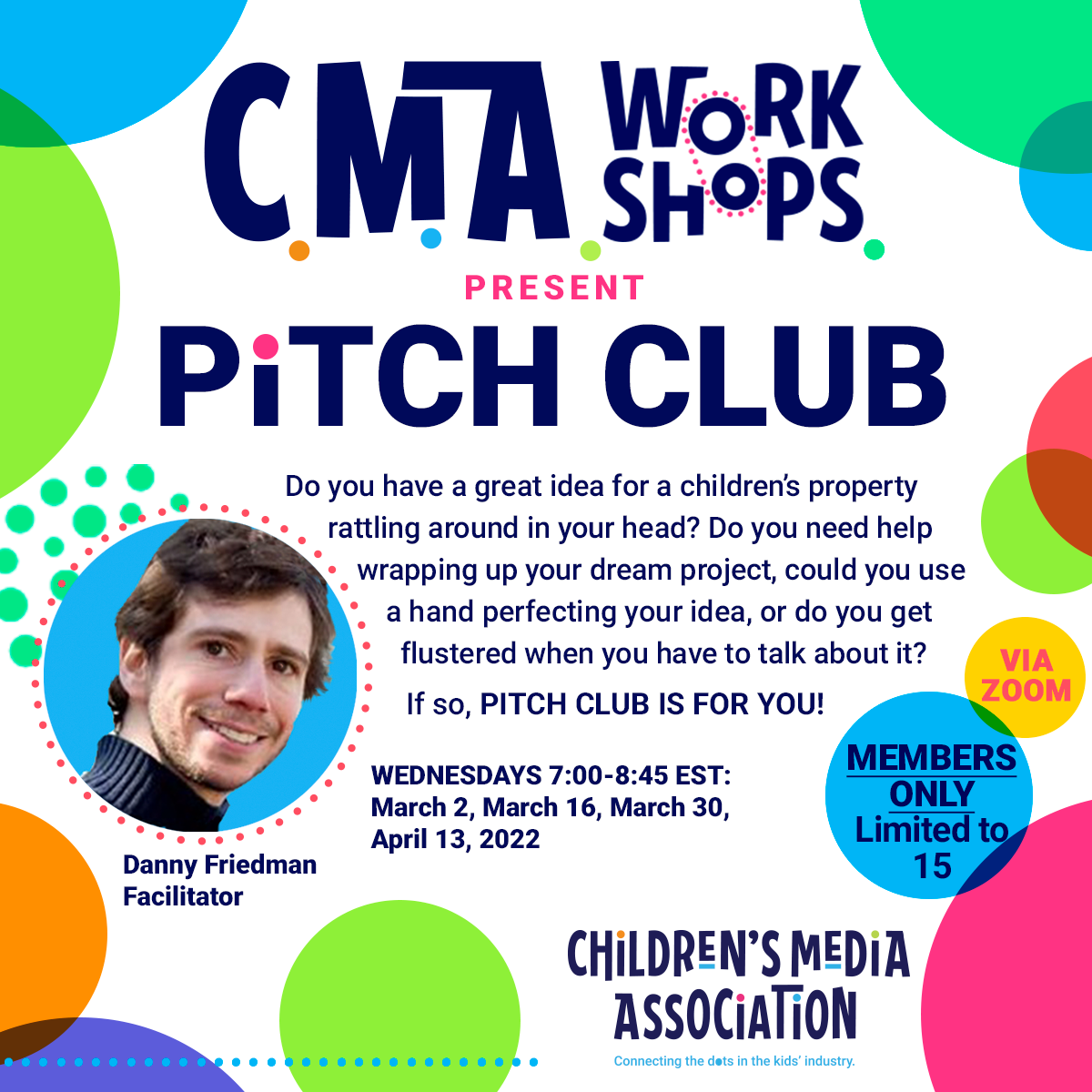 Welcome to CMA Pitch Club!  The first exciting workshop in CMA's 2022 workshop slate!
About:
Pitch Club is a virtual workshop (via Zoom) where we help bring your children's media dreams to the next level. In four sessions, you'll go from idea to one-sheet and a fully fleshed out pitch. This is a workshop, built on trust, with the other members to help you hone your creative idea while working on their own.  Special guest industry experts will be in attendance on the last day to give you some fine-tuning advice to make your pitch even more solid before you head out into the children's media world! Pitch Club is headed by Danny Friedman and filled with like-minded creative types in a safe environment that will make your show idea the best it can be!
Because this will be a highly interactive, sharing environment, space is limited to 15 creators.
Timeline: 
Sessions will be ~2 hours long and be held every other Wednesday.
Session 1 March 2, 2022: Share your idea and pitch it. Get assigned to your creative groups. Go over industry and pitch basics (including one sheet).
Session 2 March 16, 2022: Bring in a draft of your one sheet. Refine pitch and one sheet with your creative group.
Session 3 March 30, 2022: Give final polishes to your pitch and one sheet.

Session 4 April 13, 2022: The big day! This is where you'll pitch "industry experts" (the workshop participants and special guests) and celebrate!
Curriculum:
Developing a log-line: What is the essence of your pitch, and how can it be conveyed in an exciting way, and with as few words as possible?

Programming research: Where do you see your idea airing?  Traditional TV?  Streaming?  Other?  Research what distribution avenues work best for your project, and strategize on how to reach out to them.

Developing a one-sheet: Create a document that tells your audience exactly what your show is about in one page.

Creating a character sheet and episode synopsis: Have a firm grasp of your characters, and give some examples of how your show idea can sustain itself.

Speaking publicly: Practice talking about your project, so you can wow executives during your actual pitch.
Cost: 
This is a members-only benefit and will altogether cost $40.
Bio:
DANNY FRIEDMAN – Creative Developer, Writer, Producer, Brainstormer
Danny Friedman loves cartoons.  Professionally, Danny has worked in development for Sunbow Entertainment, 4Kids!, Sesame Workshop, Common Sense Media, BabyFirst, TonieBox, Outfit7 and consulted for many other great brands.  He loves nothing better than meeting with other creative people and developing characters, stories, and worlds.  Today, Danny is busy at work, creating his own cartoon ideas, overseeing CMA's Workshops slate, head-writing for a series he co-created, and petting any furry animal that gets near him…
Dates:
WEDNESDAYS 7:00-8:45 EST: 
March 2, 2022
March 16, 2022
March 30, 2022
April 13, 2022
CMA Workshops Q&A
Q: Is CMA Workshops for everyone?
A: CMA Workshops are for CMA members only. But they will be virtual and accessible by anyone with a CMA membership, no matter where they live.
Q: How much do CMA Workshops cost?
A: Because of the multi-session, curriculum-heavy aspects of CMA Workshops, this premium benefit will cost a small fee. Fees will vary depending on the number of sessions and other considerations. The fee for Pitch Club will be $40 (that is, $10 per session).
Q: Can CMA members sign up for a single session?
A: No. What makes CMA Workshops different from regular CMA events is that they are multi-session and cumulative, with a curriculum and goals that continue over time.
INSTRUCTIONS FOR SIGNING UP:
1. Fill out the survey
2. Pay the registration fee ($40)
3. Sign and return the NDA (non-disclosure agreement) which will be emailed to you shortly
Related Events