Date
Jan 12 2023
Expired!
Time
PST
5:00 pm - 6:00 pm
Teen Mental Health: The Teen Advocates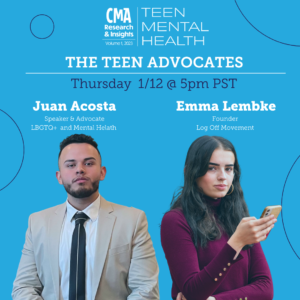 Join us this Thursday to hear from inspiring TEEN Mental Health advocates, Juan Acosta, an advocate for underserved communities specifically on the LGBTQ+ , Immigrant and Latinx community, and Emma Lembke, the Founder of The Log Off Movement.
Juan Acosta is a first generation Mexican immigrant, who grew up in Woodland California. He began his advocacy work locally at age 13. At 21, Juan drafted a historic LGBTQ+ proclamation for his hometown of Woodland. He received his bachelor's degree in psychology from San Francisco State University. Juan has done work throughout the state of California, across the country, and around the world. His work is focused on underserved communities specifically on the LGBTQ+ , Immigrant and Latinx community. He has served on various national committees and speaks at conferences and festivals. He has spoken at United Nations Side Events and the first-ever Youth Mental Health Action Forum White House Event. Juan co-authored the New York Times Bestselling "Channel Kindness: Stories of Kindness and Community" with musical artist and actress Lady Gaga + other Born This Way Foundation Reporters. He regularly collaborates with numerous organizations and brands. His work has been featured by Mashable, Oprah Magazine, DOSOMETHING, MTV, and more. He currently serves as the Warm Line Community Engagement Lead for MHASF and as a Board Member for Steinberg Institute.
Emma Lembke is a 19-year-old youth digital advocate seeking to spread digital consciousness and integrate youth voices in conversations regarding tech. In addition to her advocacy efforts, Lembke is a second-year political science major at Washington University in St Louis. Lembke is the Founder of LOG OFF– a youth movement founded in 2020 to uplift and empower youth to tackle the complexities of social media and its impact on younger generations. As a youth-led movement, LOG OFF provides an often
an overlooked and critical perspective on social media by leveraging and empowering the underrepresented experts in the field– Generation Z. Additionally, Lembke Co-Founded Tech(nically) Politics in 2021– a youth lobbying campaign dedicated to pushing forth Big Tech regulation. Her efforts have been covered by numerous media outlets including the New York Times, CBS, MTV, NHK, The Hill, and Bloomberg. Lembke hopes to continue exploring ways to make the digital world safer for young people through political and social action.