Date
Jan 10 2023
Expired!
Time
PST
5:00 pm - 6:00 pm
Teen Mental Health: The Researchers & Scientists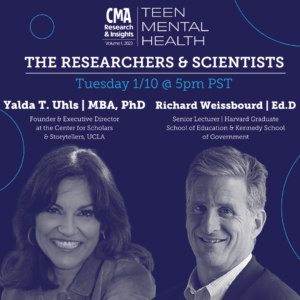 As we kick off the release of our Teen Mental Health Report please join us for an in-depth discussion about the Teen Mental Health crisis with renowned experts, Yalda Uhls and Richard Weissbourd, hosted by Suzie Domnick, CMA's President.
Yalda T. Uhls is an internationally recognized, award-winning research scientist, educator and author, studying how media affect young people. Her peer reviewed research has been featured in many news outlets including NPR and the NY Times.  In her former career, she was a senior movie executive at MGM and Sony.  Uhls is the founding director of The Center for Scholars & Storytellers, a research organization based at UCLA, which bridges the gap between social science research and media creation to support authentic and inclusive stories for youth. 
 Uhls is also an adjunct professor at UCLA where she does research on how media affect the social behavior of tweens and teens and teaches a class on Digital Media and Human Development and is the author of the parenting book Media Moms & Digital Dads: A Fact not Fear Approach to Parenting in the Digital Age.
Dr. Uhls knowledge of how media content is created and the science of how media affect children inform her unique perspective.
Richard Weissbourd is a Senior Lecturer at the Harvard Graduate School of Education and the Kennedy School of Government. His work focuses on moral development, the nature of hope, vulnerability and resilience in childhood, parenting and effective schools and services for children. He directs the Making Caring Common Project, a national effort to make moral and social development priorities in child-raising and to provide strategies to schools and parents for promoting in children caring, a commitment to justice and other key moral and social capacities. He leads an initiative to reform college admissions, Turning the Tide, which has engaged over 300 college admissions offices. This initiative seeks to elevate ethical character, reduce excessive achievement pressure and increase equity and access in the college admissions process. He is also conducting research on how older adults can better mentor young adults and teenagers in developing caring, ethical, mature romantic relationships.   
He is a founder of several interventions for children facing risks, including ReadBoston and WriteBoston, city-wide literacy initiatives led by Mayor Menino. He is also a founder of a pilot school in Boston, the Lee Academy, that begins with children at 3 years old. He has advised on the city, state and federal levels on family policy, parenting and school reform and has written for numerous scholarly and popular publications and blogs, including The New York Times, The Washington Post, The Wall Street Journal, Psychology Today and NPR.  He is the author of The Vulnerable Child: What Really Hurts America's Children and What We Can Do About It (Addison-Wesley, 1996), named by the American School Board Journal as one of the top 10 education books of all time.  His most recent book, The Parents We Mean to Be: How Well-Intentioned Adults Undermine Children's Moral and Emotional Development (Houghton Mifflin 2009), was named by The New Yorker as one of the top 24 books of 2009.